Find that perfect puppy at Critter Cabana!
We only house local, family-raised puppies who are well socialized, no younger than 8 weeks old,  and vet checked & approved.  Please note that our in stock list is updated each time puppies come in, not each time one is adopted.  Please call to verify if you are curious about a particular puppy!
Newberg
Chi/Jack Russell (Chihuahua x Jack Russell Terrier ) -Extremely lovely and intelligent ! – $499.99
Labrador(chocolate)AKC -Lively,loyal and sporty ! – $1199.99
Yorshire Terrier -Lively,loyal and sporty ! – $1199.99
Wilsonville
Mini Dachshund -Extremely lovely and intelligent ! – $699.99
Bichon Frise -Extremely lovely and intelligent ! – $1199.99
Samoyed – Super friendly and cute ! – $1199.99
Lhasaweenie – Friendly and smart ! – $599.99
Golden Doodle – Intelligent and sporty ! – $1299.99
Pughasa (Pug x Lhasa Apso) – Intelligent and sporty ! – $699.99
Last Updated 07/31/2015
Healthy Puppies at Critter Cabana
Before ANY puppy is available for sale our wonderful vets at Animal Care Clinic do a thorough check of the following:
Overbite/Underbite
Hernias
Heart and Lung Abnormalities
Healthy Gentalia
Eyes, Ears, Nose and Skin
Fleas/Ticks
Healthy weight
Healthy temperature
They also do a thorough fecal exam which tests for the following:

Roundworm/Flatworm
Giardia
Coccidia
Any immeditely remedial issues are treated upon arrival. Our puppies FULL medical history is always completely disclosed, including any minor non remdial issues (such as a small overbite or underbite). Our puppies receive a 5-way vaccination every two weeks to ensure that communicable diseases have the smallest, shortest, and safest window of time to catch any of the core illnesses.

Breeders
We buy puppies of every sort from hobby breeders, rescue groups, or private individuals. Please note we do not buy puppies from wholesalers, brokers, or commercial breeders. If you have a litter of puppies and are interested in selling them to us please use the following form as soon as possible as we like to have everything finalized by five weeks of age.
---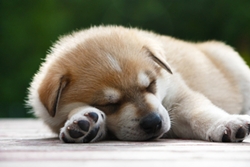 I bought my puppy here six months ago
and the store happily put me in contact with the breeder when we had questions about the parents… and I am proud to say Critter Cabana's puppies are not from puppy mills!!! Our little Fiona came from a local family in Sherwood. Also, the staff was extremely friendly when we got our dog and they let us put it on hold for free for 24 hours. We headed down to Petsmart because my husband thought it would be cheaper… after a brief price comparison we could see that they were extremely competitive so we decided to shop local. Even better… when we actually picked up Fi they gave us a discount on food, toys, chews the crate and everything! My husband was very pleased.
-Wendy SB